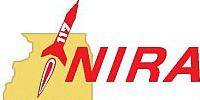 Northern Illinois
Rocketry Association
NAR Section 117
Welcome to NIRA!
The connection details for online meetings are published on the club's mailing list during the week before the meeting.
---
Since 1963 the Northern Illinois Rocketry Association (NIRA) has been bringing together rocket hobbyists from all over the greater Chicago area. Throughout the year our members participate in regular monthly meetings, club launches, and a variety of special activities. We range in age from the young to the young at heart, and include beginners as well as dedicated hobbyists with over 35 years of hobby rocketry experience. Whatever your sport rocket interests or skill level, you'll find a welcome home at NIRA.
Fly Your Whole Collection
NIRA members build and fly model and high power rockets, competition models, radio controlled rocket gliders, scale models and oddrocs of all sizes, shapes and description. Visit our Photo Galleries to see some of the rockets we fly and photos from some of our launch events and meetings.
Pick Up New Ideas
NIRA members regularly share their latest discoveries through presentations at club meetings, discussion at after-meeting dinners, email lists, and local, national, and international convocations. Are you looking for answers on how to best apply that special paint? Need some pointers on fiberglass techniques? Want to know how to trim your helicopter rocket? Check out the action at a NIRA event. Ask some questions. You'll get hooked up in no time.
Share Your Ideas
You may have some hobby techniques of your own or other special knowledge that you'd like to share with the club. The floor is always open at NIRA meetings for members to help each other out with tips and tricks.
Additionally, many members attend national conventions such as NAR's NARCON. NIRA, together with the Fox Valley Rocketeers, holds our own annual get together, NIRCON, in February ... except when scheduling and planning conspire to delay it until March!
Open To Anyone
You may have flown rockets as a kid. You may be discovering rockets for the first time. You may not even own any rockets, but are just interested in the science. NIRA welcomes anyone interested in sport rocketry to join us.
To join our club, simply print and mail a membership application. For information please refer to our contact list. We look forward to seeing you and talking rockets!