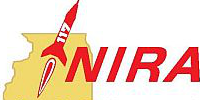 Northern Illinois
Rocketry Association
NAR Section 117
NIRA Contact Information
You're welcome to contact the following persons for additional information including the most recent schedule of local NIRA sponsored events. Our Contact Persons also are "in the know" about other sport rocketry events throughout the Midwest.
General Club Information
For general information, please e-mail us at information@nirarocketry.org
Youth Group, Scout Group Information
NIRA hosts launches for Scout and other youth groups throughout the year. For more information, or to schedule an event, please e-mail us at youthgroups@nirarocketry.org
Membership
Membership applications are available from this site and may be printed and mailed, or brought to any club meeting (we cannot accept dues payments at most launches due to Forest Preserve regulations). For other questions, please e-mail us at membership@nirarocketry.org.
Club Officers
NIRA Committee Chairs
Equipment: Joe Charaska
Contest Coordinator: Adam Elliott
Scouting/Youth Group Liaison: Joe Charaska
TARC Coordinator: Arnie Witzke
Webmaster/Technical Support: Martin Maney
NIRA Expertise
If you're stuck on a problem or want to know something about a new area of sport rocketry you want to explore, where do you turn? One of the greatest benefits of being a NIRA club member is being able to ask questions of experienced people. The NIRA club member roster includes experts on many areas of rocketry, including...
Boost Gliders/Rocket Gliders
Cameras (in flight)
Clustering
Collecting/History
Competition
Composite Materials
Demos
Electronics
Painting and Finishing
High Power Rockets
Launch Systems
NAR Politics and Services
Oddrocs
Photography
Plans
Scale Models
Tools
This list is by no means complete! NIRA members are notorious for pointing newcomers toward the people who are best qualified to answer your questions on whatever aspect of the hobby that interests you.
If you have questions on these or any other rocketry topics, drop by a club meeting and we'll be happy to find your an answer!