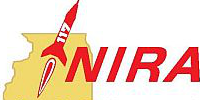 Northern Illinois
Rocketry Association
NAR Section 117
Welcome to NIRA!
NIRA Resumes public launches!
The DuPage FPD has approved the resumption of NIRA's traditionally open monthly rocket launches! The club's launch on June 20th was the first of the post-COVID launches, open to the public from 2:00 to 5:00. The FPD's rules are basically the same as the CDC's recent recommendations.
During Phase 5 of Restore Illinois, visitors who are not fully vaccinated must:
Wear a mask that covers the nose and mouth when inside forest preserve buildings.
Practice social distancing inside and outside when in the preserves.
Wear a mask outside anytime social distancing isn't possible.
Thanks to everyone who has helped reduce the spread of the Corona virus, especially those who have achieved full vaccination status. As the proverb puts it, Wear a mask, stay safe for one day; get the jab, be safe for a lifetime.
---
In consultation with DuPage FPD the club is trying to work out a path to resuming open launches. We have a proposed schedule of launch dates.
Club meetings at the Schaumburg Regional Airport are still suspended, with online meetings that will be announced on the members' mailing list, and linked in the sidebar when possible.
---
A message for members from the NIRA treasurer
As you all know, NIRA asks its members to pay annual dues, which support our field permit fees and cover other expenses such as maintaining our website, equipment replacement, etc. Dues are typically assessed at the beginning of the year and I send out reminders by email.
Thank you to all of our members who have paid dues this year.
As some of you have noticed, I have not been sending the usual reminders this year. The COVID-19 situation has been a challenge for everyone, and we have been in a holding pattern with the Forest Preserve District regarding the ability to obtain permits and make use of the field. So, the most important reason to assess dues - permit fees - has not been an expense so far this year, and it seems reasonable not to assess dues to members when they aren't getting the benefit of the use of the field. But, most of the members have already paid dues for this year, and it is cumbersome to refund their dues only to collect them again six months from now, or whenever launching resumes.
The club has discussed this in the last two meetings. Here's what we have decided.
All NIRA memberships paid in 2020 will be extended through the end of 2021. In other words, if you are a renewing member who paid dues any time in 2020, or a new member joining NIRA any time in 2020, we will not assess dues in 2021. I will send out receipts to those members that reflect that status.
Renewing members who have not yet paid dues in 2020 should still pay them. I will send out reminders to those members individually.
New members joining in 2021 will pay dues in 2021 as normal.
All of this is predicated on the assumption that we will be able to launch in 2021 as normal. If that turns out not to be the case in Spring of 2021, we will revisit the situation.
Please feel free to contact me with any questions or concerns. Of course anyone who would like their 2020 dues refunded, please contact me directly and I will be happy to return your payment.
Thank you to all who support this club.
---
Since 1963 the Northern Illinois Rocketry Association (NIRA) has been bringing together rocket hobbyists from all over the greater Chicago area. Throughout the year our members participate in regular monthly meetings, club launches, and a variety of special activities. We range in age from the young to the young at heart, and include beginners as well as dedicated hobbyists with over 35 years of hobby rocketry experience. Whatever your sport rocket interests or skill level, you'll find a welcome home at NIRA.
Fly Your Whole Collection
NIRA members build and fly model and high power rockets, competition models, radio controlled rocket gliders, scale models and oddrocs of all sizes, shapes and description. Visit our Photo Galleries to see some of the rockets we fly and photos from some of our launch events and meetings.
Pick Up New Ideas
NIRA members regularly share their latest discoveries through presentations at club meetings, discussion at after-meeting dinners, email lists, and local, national, and international convocations. Are you looking for answers on how to best apply that special paint? Need some pointers on fiberglass techniques? Want to know how to trim your helicopter rocket? Check out the action at a NIRA event. Ask some questions. You'll get hooked up in no time.
Share Your Ideas
You may have some hobby techniques of your own or other special knowledge that you'd like to share with the club. The floor is always open at NIRA meetings for members to help each other out with tips and tricks.
Additionally, many members attend national conventions such as NAR's NARCON. NIRA, together with the Fox Valley Rocketeers, holds our own annual get together, NIRCON, in February ... except when scheduling and planning conspire to delay it until March!
Open To Anyone
You may have flown rockets as a kid. You may be discovering rockets for the first time. You may not even own any rockets, but are just interested in the science. NIRA welcomes anyone interested in sport rocketry to join us.
To join our club, simply print and mail a membership application. For information please refer to our contact list. We look forward to seeing you and talking rockets!