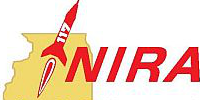 Northern Illinois
Rocketry Association
NAR Section 117
Northern Illinois Rocketry Convention
Looking for a way to beat cabin fever? The sky is no longer the limit! Join the Northern Illinois Rocketry Association for their 10th annual "NIRCON". See displays of model, sport and high powered rockets, video from recent launch events around the Midwest and hear rocketry related presentations that run the gamut from beginner construction techniques to advanced home rocketry and the latest frontiers in commercial space exploration. The event is geared for all ages and levels of experience and is 100% family friendly with no cost for admission and plenty of prizes to help launch attendees into a rewarding journey of science, exploration and fun!
Presentation topics will include:
a talk on commercial space ventures
electronics in high power rockets
paper and cardboard construction in model rockets
space program simulation using Kerbal Space Program software
The 2014 edition will be presented by NIRA and FVR on Saturday, March 15th, at the Helen Plum Library in Lombard.