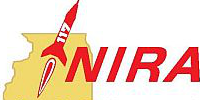 Northern Illinois
Rocketry Association
NAR Section 117
Club Launch, 20 June 2021
The COVID Recovery Launch
In the words of a couple of members who were there:
To all who attended NIRA's First Open to the Public NIRA Launch Thank You for joining us and having a Good Day! I wanted to let everyone know that had a good first turn out. We had about 12 members a couple new ones too! It was hot and humid, mostly cloudy with gentle winds out of the South Southwest. Got a little windier after the noon hours and had a wind shift later. Had 3 or4 flights end up in the reeds, but all were recovered in fact not one lost rocket to report. A couple recover issues to report but nothing serious. A sprinkle or two by 2:00 pm nothing big enough to stop flying. Then at about 2:30 pm or so we had about 5 families showed up to fly rockets for Father's Day. They all had fun and by about 4:00 pm or so all had left except one father and son had to do their last flight. It's one of the flights that made it into the reeds. So Joe decided to venture out one more time because he had a good line on it. While Joe was gone Chuck, Don, Jonathon, and I broke down the range and waited till the others returned with the rocket safe and sound. I had to get home because my son was to be coming over for dinner and the other four went to I believe Portillo's. I though we had a great day!
---
There were 52 launches on Sunday. I know of 1 lost rocket; the recovery failed to deploy and it went ballistic into the reeds. All in all a very pleasant launch.